Let's be real, no one enjoys doing dishes. I finally decided to invest in a dishwasher, and as an eco-conscious consumer, it's important to me to find an energy-efficient dishwasher. After searching online, I realized many sites rate dishwashers on performance and rarely mention energy consumption. But which brands can offer the most energy-efficient dishwasher? Read on to find out.
The most energy-efficient dishwashers in the USA carry either the Energy Star or Energy Guide label.
The most efficient dishwasher models include:
1. Miele G 5892 SCVi SL
2. Fisher & Paykel – DD24DTX6I1
3. Blomberg – DWS 51502SS Slim Tub, Top Control Dishwasher
4. Summit – DW18SS4
5. And more…
So, if you are shopping around for a dishwasher and, like me, care about the effect your appliances have on the planet and your wallet, then look no further as I share my findings on energy-efficient dishwashers.
If you'd like to see the relative cost of running a dishwasher you can check out the calculator below.
Simply enter the average number of hours you use your dishwasher in the 'Hours Used Per Day' and then enter the wattage of your chosen appliance and the cost per kWh for electricity.
According to the U.S. Bureau of Statistics, the U.S. average cost of electricity is currently $0.168 per kWh.
Dishwasher – Energy Cost Calculator
Do dishwashers use a lot of energy?
Yes, dishwashers do use a lot of energy. They can use between 500 and 1500 watts of energy, depending on the size and model of the dishwasher.
Energy use will also vary depending on the water heater settings, cycle time, and the number of loads run per day.
To save even more energy, only run your dishwasher when it is full. Scraping dishes before loading them into the dishwasher can also help to reduce energy use.
Running the dishwasher uses about as much energy as running a standard clothes washing machine.
If you have an 'Energy Star' certified dishwasher, however, you can save up to 50% on your energy bill.
These energy-efficient dishwashers use less water and energy, which can lead to big savings on your utility bills. You'll be doing your part to help the environment, too!
Are Newer dishwashers more energy-efficient?
One reason that newer dishwashers are more energy-efficient is that they have been designed to use less water.
Many newer dishwashers also have special features that help them to conserve energy, such as soil sensors that determine how much water is needed to clean the dishes and then adjust the amount of water used accordingly.
Additionally, newer dishwashers often have more efficient pumps and motors that use less energy to operate. Overall, these improvements in design and technology have resulted in dishwashers that use less water and energy than older models.
best energy efficient dishwasher
1. Miele G 5892 SCVi SL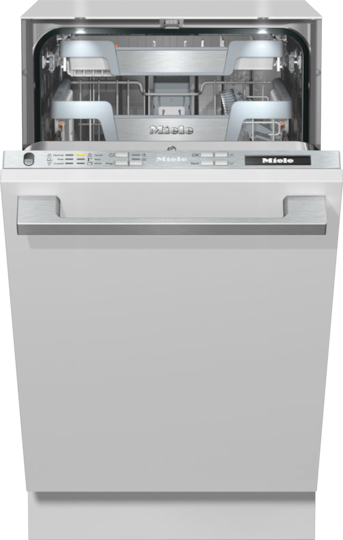 The Miele G 5892 boasts energy usage that is 36% better than the standard recommended by the US Federal. I found other Miele models that have ever-so-slightly better energy use, but those models were either discontinued or unavailable in the US.
Miele is known for their innovation, and with over 100 models earning the energy star label, you are guaranteed a high-quality dishwasher that is environmentally friendly and extremely effective.
The G5892 SCVi SL is a fully integrated dishwasher which means that the buttons are hidden inside the door, resulting in a sleek dishwasher that blends seamlessly into your kitchen aesthetic.
Energy consumption:
Features:
AutoOpen technology for quick drying – once the load is complete, the door opens automatically.
LED lighting inside the washer to make loading easier
Low noise levels
Eight washing cycles to choose from, including
Water Use (gallons per cycle): 3.2
2. Fisher & Paykel – DD24DTX6I1
Fisher & Paykel offers fully integrated dishwasher "drawers" that are ergonomically designed to make their dishwashers a dream to use.
The DD24DTX6I1 model is a single-door DishDrawer™ that easily fits twelve plates but can also fit larger cookware like pots and pans, thanks to flexible racking.
Energy consumption:
Features:
Eight washing programs, including eco and quiet wash (perfect for washing at night)
Child lock controls
Knock to pause function – knocking on the front panel will pause the wash cycle while the start button will restart the cycle
Low noise level of 43dBA
Water Use (gallons per cycle): 3.1
3. Blomberg – DWS 51502SS Slim Tub, Top Control Dishwasher
This 18″ slim tub is perfect for couples and smaller families. As this dishwasher has a place setting of 8, it may not be ideal for larger families. What I love about the Blomberg slim tub is that you can adjust the flexible upper rack to fit large pots on the lower rack or tall glasses on the top.
The Blomberg DWS 51502SS has five washing programs, including a quick wash and a rinse and hold function. The rinse and hold function is ideal for keeping dishes odor-free that are left in the dishwasher until it is full. Perfect for stretching the time between washes and thus saving more electricity!
Energy consumption:
Features:
Flexible upper rack
48dBA noise level
Water Use (gallons per cycle): 2.4
4. Summit – DW18SS4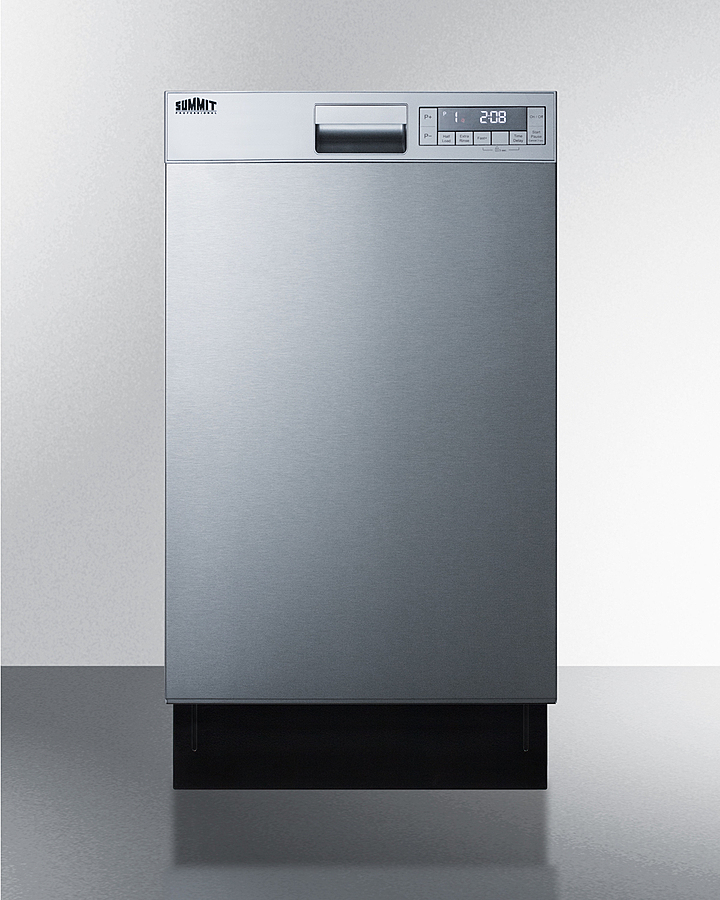 Like the Blomberg DWS 15102SS, the Summit DW18SS is an 18″ dishwasher with two racks and an 8-place setting, making it more suited for couples and small families. The dishwasher has an elegant design and a stainless-steel finish, but best of all, the height is adjustable!
The Summit DW18SS4 has a selection of kickplates that covers the bottom of the dishwasher to accommodate heights of 33.5″ to 35″, ensuring your dishwasher fits perfectly under your counter.
The dishwasher has five washing programs, which include a "QuickWash" program that washes in 35 minutes. All five programs can be programmed up to a day in advance using the time delay function.
Energy consumption:
Features:
User-friendly digital touch controls
Five washing programs
Child lock
Water Use (gallons per cycle): 2.4
5. Beko – DIS25842 & DDS25842X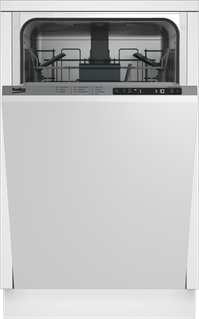 The Beko DIS25842 and Beko DDS25842X have the same energy and water consumption. As they are very similar in consumption and design, I deemed it appropriate to have them share spot number five as the most energy-efficient dishwasher of 2023.
The key difference between these two dishwashers is that the DIS25842 model is panel-ready, which means the dishwasher is designed to place a panel in the front to match your kitchen cupboards. Panel-ready dishwashers blend seamlessly into your kitchen interior.
The DDS25842X is a built-under model with a modern, square handle in the front. The display buttons are hidden in the top panel of the door like the panel-ready model.
Energy consumption:
Features:
Five washing programs, including Express
Sanitize functions
8 place setting
Noise level: 48 dBA
Water Use (gallons per cycle): 2.4
6. VIKING – FDWU324
This 24″ panel-ready dishwasher has so many innovative features! There are four custom panels to choose from if you wish (completely optional), and I must admit they are all stunning!
Accommodating 14 place settings and six wash programs, the Viking FDWU324 is a beast of a dishwasher! The FDWU324 has an adjustable upper rack that you can place in three different positions to accommodate a range of crockery and kitchen tools.
Energy consumption:
Features:
Multi-level power wash
Noise levels of only 45dBa
The LCD control panel is hidden inside the door
6 washing programs
Water Use (gallons per cycle): 2.36
7. Cove – DW2450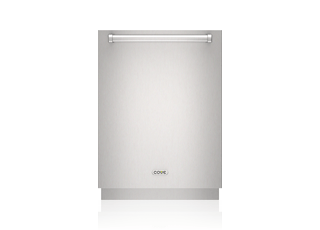 The Cove – DW2450 from Wolf-Subzero is a 24″ panel-ready dishwasher that is so quiet you can hardly hear it. With a noise level of 41dBa, the LED lighting that indicates the washer is on comes in handy.
The interior of the DW2450 features three racks. The upper rack is a cutlery rack that can hold larger utensils, and the middle rack is height adjustable. LED lighting makes packing and unpacking convenient.
Energy consumption:
Features:
Full five-year warranty
Noise level: 41dBa
Water Use (gallons per cycle): 2.98
8. Miele G 7156 SCVi SF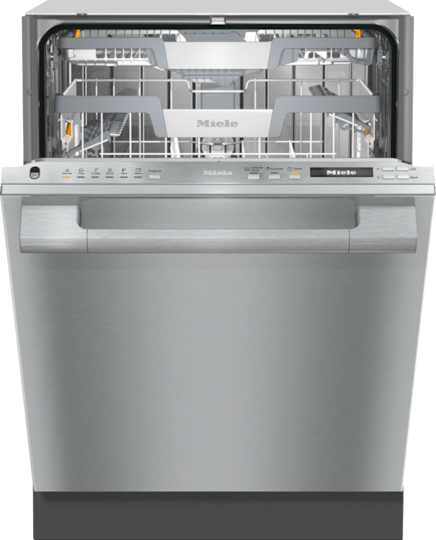 The G 7156 SCVi SF is another innovative dishwasher from Miele offering eight washing programs, including a "QuickIntense Wash" that cleans a normal load in less than an hour.
The Miele G 7156 SCVi SF has three racks, of which the upper rack is a tray for cutlery and utensils. The upper tray is flexible and can be adjusted to fit smaller dishes like espresso cups or larger glasses like tall wine glasses. You can also adjust the right-hand section for utensils.
The language button on the control panel allows you to choose your language. The languages are indicated with flags to help you return to your own language when selecting an unfamiliar one by accident.
However, what I love most about this dishwasher is the eco feedback function. When you select a program, the machine displays the estimated water and electricity consumption for that specific program, helping you select the most efficient program for your needs.
Energy consumption:
Features:
Automatic load sensing
AutoOpen drying – door opens automatically once the cycle is done
Noise level: 43dBa
Water Use (gallons per cycle): 3.2
9. Beko – DDT38532X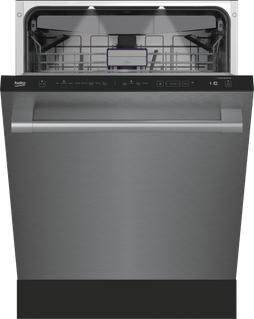 The DDT38532X is a tall dishwasher that can accommodate 16 place settings, perfect for large families! This revolutionary dishwasher uses cutting-edge technology to deep clean the inside of glasses and a spray arm that rotates to clean hard-to-reach corners.
The Beko – DDT38532X contains three racks, of which the middle rack is adjustable by height to fit large pots and pans. Choose between eight programs and four functions for a custom washing cycle.
The best part? The filter cleans itself! This function is amazing if you ever forget to clean out the filter as I do!
Energy consumption:
Features:
Two-year warranty
Noise level: 45dBa
Water Use (gallons per cycle): 2.37
10. Bosch – SHEM78WH5N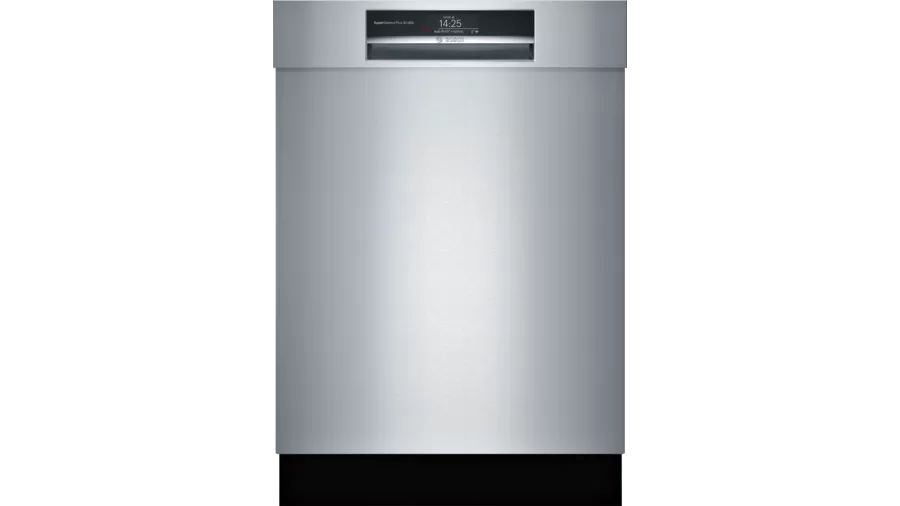 The SHEM78WH5N is part of Bosch's 800 Series Dishwashers. The 24" Stainless steel washer has a 16-place setting and seven washing programs, each with seven options.
For further convenience, you can connect the dishwasher to the Home Connect app to operate your dishwasher via your tablet or smartphone.
Energy consumption:
Features:
42dBA – one of the lowest noise levels for all dishwasher brands in the US
Water Use (gallons per cycle): 2.9
Which Energy-Efficient Dishwasher Saves The Most Water?
Of the ten dishwashers on my list, the VIKING – FDWU324 uses the least water at 2.36 gallons/cycle. Second in place is the Beko – DDT38532X with water use of 2.37 gallons/cycle, but the energy consumption is slightly higher compared to the Viking (230 kWh/yr. vs. 225 kWh/yr.)
There are a few dishwashers from my list with an energy consumption of 220 kWh/yr. and water usage of 2.4 gallons/cycle, which I think is a good balance:
Blomberg – DWS 51502SS Slim Tub, Top Control Dishwasher
Summit – DW18SS4
Beko – DIS25842 & DDS25842X (both models)
Conclusion
Finding the most economical dishwasher is easier than ever. With government guidelines and labels like Energy Star, brands compete against each other in favor of the consumer.
You can expect not only energy efficiency but also other innovative features that improve water consumption, cleaning power, and overall user experience.